Asian Media Access calendar
0
AMA Rock Band – Darkness
Thanks to the support from the MN State Arts Board, AMA has rejuvenated the music division by offering up rap song production, Hmong folk songs, vocal and guitar classes with a special emphasis on the recoding components. With the support from AMA, the youth has grouped together from different classes and launched a youth Rock Band  –  "Darkness," they have been practicing every
Sunday
from 
9 to noon
, and had its debut in August at the Hmong International Academy during the summer youth program celebration.
Please contact
[email protected]
about any of the music programs.
---
Sign Up for AMA Fall Programs
Youth Media Force
Youth who are interested in Multimedia Arts Production, including Video, Radio and Animation, please sign up to Youth Media Force group, youth will meet every Tuesday & Thursday from 6 to 9 PM, and develop media products that are attractive to their peers on various concerned issues.  Please contact [email protected] to sign up.
Youth Media Camp coming in October
Remember to check on Asian Media Access' website for upcoming Youth Multimedia Camp in mid Oct, during the MN Education Association (MEA) weekend, an unique opportunity to learn multimedia skills and applying to the concerned social issues. CheckAMA's web site for information coming soon.
Wrapped a Successful Summer with Youth Internship

Asian Media Access has successfully concluded the summer long internship project – STEP UP, serving 30 youth of color. Youth have presented their works at the August 14 Summer-end Celebration, and have focused on several themes: 1) Violence Prevention; 2) Bicultural Healthy Living; and 3) Obesity Prevention.  In total, youth have created: 1) 163 outdoor stencil arts; 2) 36 Postcards; 3) 22 1-hour radio shows under the label A4A*Story411 (Arts For All with Stories from 55411); and 4) 2 Video PSAs.  We hope to better promote biculturalism and bring about the positive messages to the community.

Many youth shared their appreciation at their weblogs, such as: "Throughout the last 8 weeks of working at Asian Media Access. I have learned many things, such as tobacco prevention, drug prevention, alcohol prevention, and also about Complete Street. Some things that I liked about working at AMA was the field trip to the Garden and Farmer Market, and making new friends along the way."

"During the summer I learned about the concept of BALL. My photoshop skills have massively improved. One good memory I will have about this program is going to be the people. They were all so welcoming and it was good to know I've made new friends. In the future I want the concept of BALL (Bicultural active living lifestyle) to expand even further!"
Bicultural Active Living Lifestyle (BALL) Campaign Launched
Asian Media Access has successfully designed a series of education materials to launch 3-month long public awareness campaign about the Bicultural Active Living Lifestyle (BALL).  The Campaign has included 160+ Sidewalk Stencils with different languages of "Exercise," 10 Bus Posters, video and radio PSAs, and most importantly – a set of educational materials (Booklet, Brochure and Folding Card) to enhance people's understanding about the biculturalism, and how to integrate diverse cultures into a holistic and healthier lifestyle.  All educational materials will be available to download at our website – http://ballequity.apacommnet.org/
We welcome more partners, speaking engagements and training opportunities, please contact our Director of Communication Maya Park at [email protected]
(click on the following images for the full-sized version)
Shop with a Cop
AMA has supported a successful back to school event – Shop-With-A-Cop on Thursday, August 20, 2015, for at-risk youth of color in North Minneapolis. This exciting event engaged more than 50+ youth with $100 gift card each to shop at Target for back to school supplies, work readiness attire, or other basic necessities as well as get to interact with a police officer in a nontraditional context.  This event intended to have the police offers know first-hand about at-risk youth's situations, and let the youth also know about police duties, and see the Police as part of the Community.
This event is a part of the City of Minneapolis' broader youth violence prevention efforts from Health Dept and Police Dept, and collaborated with Asian Media Access' Stand Up Participate initiative.
Hmong Mother-Daughter Club Competes at the State Fair
This year State Fair has a special meaning to AMA family, our very own Hmong Mother Daughter Club (HMDC) has won the regional title for their service learning project – Domestic Violence Prevention for Asian American Community. The girls of HMDC explored various forms of violence, from war to bullying. Most notable is the girls' exploration of domestic violence. Besides just learning about domestic violence, these girls have and are continuing the initiative towards preventing it.
The first major step the girls took was lobbying at the State Capitol to support a domestic violence funding bill through the Council on Asian-Pacific Minnesotans (CAPM). Taking it further, HMDC members individually designed T-shirts advocating for the prevention and ceasing of domestic violence. In addition, the girls of HMDC created poster boards filled with images, quotes, slogans, and statistics as part of their advocacy efforts. The T-shirts and posters were presented at the State Fair, showcasing their service learning experience. Nonetheless, this will not be the end for these power-engines; these girls will tackle more important societal issues as a Club. More great endeavors will surely be accomplished by HMDC girls in the future.
End – of -Summer Fun!
Asian Media Access' partner Iny Asian Dance Theater hosted an Inter-generational Picnic and Fun Sports Competition at Como Park to close their summer Asian dance programs.  No matter young or old, everyone had a great time to run and laugh out loud under the sun.  The event ended with the famous IADT colored water ball fight, a fun way to say good-bye to the summer.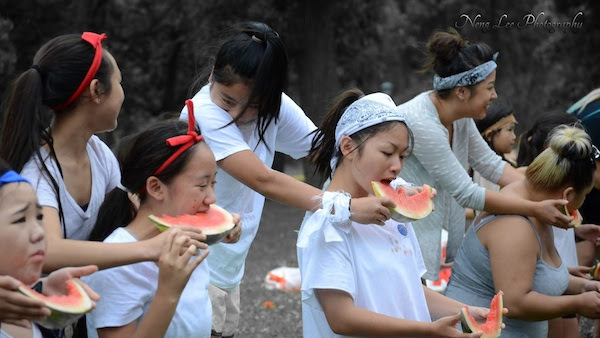 photo by Neng Lee
A Night on the Red Carpet with Hmong Stars
Fresh Traditions Fashion Show
Tagalog Classes Offered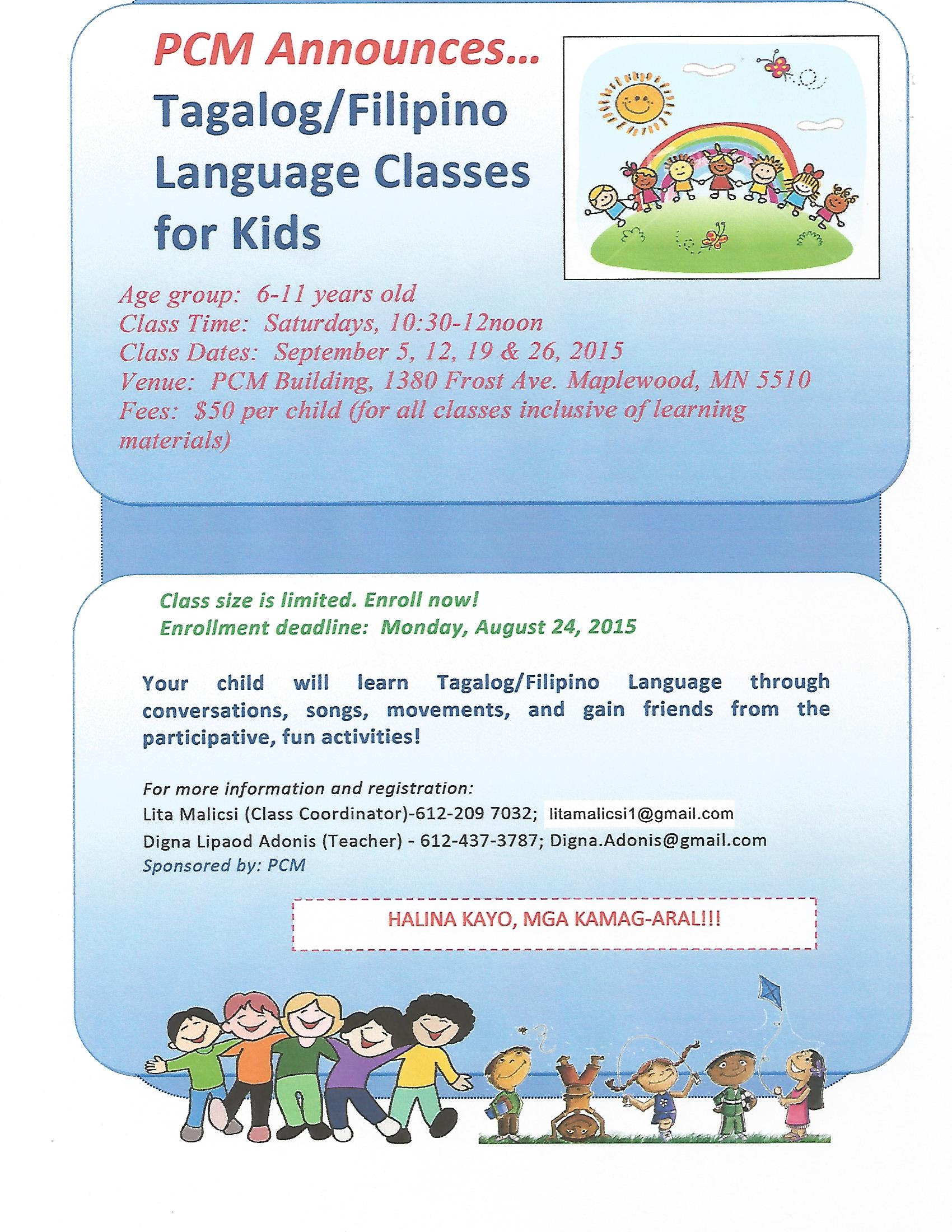 Ambassador Mitsuo Sakaba visits MN
A group of individuals who have consistently made efforts to convey the strengths and appeal of Japan has been dispatched to the US. The members are drawn from a variety of backgrounds, including a former ambassador, a trading company employee, a female entrepreneur, and a student. The group will meet and hold discussions with the Japan America Society of Minnesota, providing an opportunity for an honest exchange of opinions on relations with Japan.
Trade and Investment Strategies in Japan
Presenters: Ambassador Mitsuo Sakaba and Mr. Keiji Shigeoka
Date: Monday, Sep 14
Time: Door 11:30 a.m.,
Luncheon Noon–1:00 p.m.
Lunch provided
Location: St. Paul Hotel
350 Market Street
St. Paul, MN 55102
Ticket: $10 JASM members, $15 non-members, $5 Students (with student I.D. at the door)
More information at http://mn-japan.org/2015/08/save-the-date-walk-in-u-s-talk-on-japan/
2015 CAAPAM 學術研討年會暨緬懷抗戰史實圖片展
明州華人學術聯誼會(CAAPAM) 將於9月20日星期天,上午9:20至下午4:30,假北橡園高爾夫俱樂部 (North Oaks Golf Club) 舉辦 2015年會暨緬懷抗戰史實圖片展。CAAPAM 誠摯地邀請您報名參加。
今年年會的主題是『緬懷歷史與科學新知』,共有四場演講:
• 賀斌博士:腦電成像及腦控飛行器 (英文演講)
• 蘇秉輝博士:抗戰血淚史回顧 (中文演講)
• 譚汝謙博士:戰後七十週年反思:今後中日關係何去何從?(中文演講)
• 吳旦華先生:緬懷八年抗戰,展望東亞和平 –老兵自說自話 (中文演講)
同時,會場將全程展出由中華民國國防部史編處、美國國家檔案館、世界大同文創股份有限公司所提供的許多珍貴抗戰照片。
報名截止日期為9月14日。報名請將報名費 (含午餐及下午茶點,抬頭:CAAPAM) 及報名表寄至:
CAAPAM,P.O. Box 25767,Woodbury, MN 55125