ELECTRIFYING NEW WORK AT HONG KONG ART WEEK:
LAN ZHENGHUI'S TOWERING NEW INSTALLATION "INK MONUMENT" DEBUTS AT ART CENTRAL
─ One of China's leading contemporary artists, Lan Zhenghui will next embark on a U.S. tour featuring a residency in New York and university lectures in multiple cities across the United States ─
(HONG KONG ART WEEK)  March 22, 2016  ─  Lan Zhenghui, one of China's leading contemporary artists, debuts his majestic new installation Ink Monument at Art Central Hong Kong presented by Ethan Cohen New York, on view through March 26 at the iconic Central Harbourfront. Commissioned by Art Central's selection committee, Lan Zhenghui's installation Ink Monument towers more than five meters high, with a colossal four-sided column of large-scale ink paintings on rice paper.
The artist created his new master-work to express the power of sadness and an epic awareness of tragedy. After Hong Kong Art Week, Lan will next embark on a U.S. tour that includes a second residency at Mana Contemporary co-sponsored by Ethan Cohen Fine Arts, and university lectures in multiple cities.
This is the second year that the Art Central selection committee has invited Lan Zhenghui for a major installation. At 2015's Hong Kong Art Week, Ethan Cohen curated Lan'sinstallation titled Re-Think, which was very well received in Hong Kong and was a highlight of the Art Central fair (the entire installation was acquired).
Lan is renowned for taking the freehand strokes of traditional Chinese painting to new, monumental levels by infusing them with the abstractions and expressiveness found in modern painting.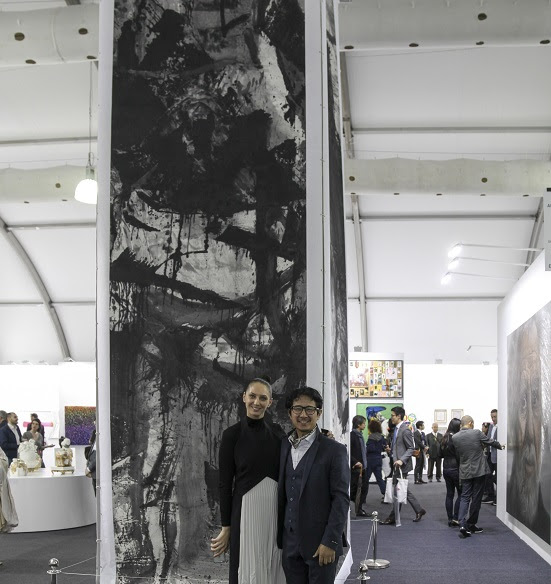 (Maree Di Pasquale, the Fair Director for Art Central Hong Kong, with Lan Zhenghui)
"The focus of my work is the profound consideration and the emotion of the ink," says Lan Zhenghui. "What makes this new installation completely different for me is that I have been challenged by dimensions required by the selection committee and translating this into the necessary sense of space – to then construct a dignified phenomenon of transcending tragedy, representing the mortality we all face. I would have liked to reach higher to even greater heights."

The source of the Lan's inspiration is derived from ink. Occupying the aesthetic confluence between traditional Chinese Ink painting and Western abstract expressionism, Lan Zhenghui's work reinvents both.

(Lan Zhenghui, Wild Heart, 2015, acrylic on canvas, 4m x 10m)
He lets the ink follow and discover its own momentum in bold, kinetic, strokes. He has liberated ink from being determined by form. But the spirits of Chinese landscape linger like ghosts in the canvas. They haunt both the process – the brushstrokes, the vectoring – and the resulting shapes. Mountains, rivers, storms, even figures, surge and evaporate subliminally.
Ink Monument can be seen at Art Central's Section P-10. Additional work by Lan Zhenghui can be seen at Art Central's Booth B-5, presented by Ethan Cohen New York.

("Ink Monument," Lan Zhenghui's towering installation for Hong Kong Art Week, at Art Central)

Born in Sichuan China in 1959, Lan graduated in 1987 from one of China's most prestigious art academies, the Sichuan Academy of Art (famous alumni include Zhang Xiaogang and Zhou Chunya).
He has focused his career working in contemporary ink painting and calligraphy, and his powerful ink movement is based on more than 20 years of passionate research for his vision of constructing art via ink traditions in new ways.
Known for monumental, large-scale abstract ink paintings, Lan's work departs from Chinese ink traditions through his raw individualism, (a rarity in China), emotional expressiveness, and physicality. This results in bold, varying densities of ink application and the artist splashing ink directly onto the paper. Preferring a freehanded approach instead of a brushstroke, in 2000 Lan launched the "power brush" movement.
Most recently, Lan's work is featured in the U.S. in the national traveling exhibition titled
28 Chinese, an exhibition of Chinese artists gathered by American collectors Don and Mera Rubell after ten years of visiting artist studios in China. The traveling exhibition was launched during Art Basel Miami Beach and has traveled to the Asian Art Museum in San Francisco and the San Antonio Museum of Art.
Lan's first U.S. solo exhibition, titled Re-Think, received rave reviews in 2015 at Ethan Cohen New York.

(Lan Zhenghui with Ethan Cohen)
Lan's work has been shown at the China National Art Museum in Beijing; at China's Guangdong Museum of Art; the Gallerie du Monde Hong Kong; The Third Biennial China-Italia in Turin, Italy; the Flemish Museum of Art Museum in Brussels; the Art Institute of Chicago; the International Art Expo in Taibei; the Duolun Museum of Modern Art in Shanghai; at Art Dubai; SDMOMA, Shanghai, China; and the Baden-Wurttemberg in Germany.  Ethan Cohen New York has exhibited Lan at Art Silicon Valley; Arts Stage Singapore 2015 and 2016; Art Miami 2015 (during Art Basel Miami Beach); and at Art Central 2015 and 2016 (during Hong Kong Art Week).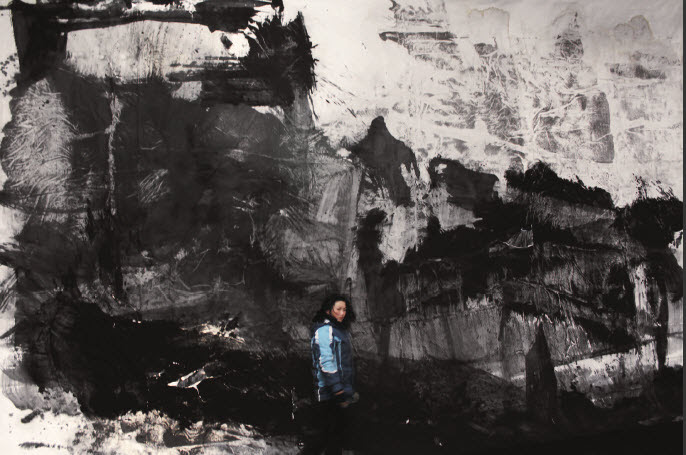 Lan's work appears in the public collections of the China National Art Museum in Beijing; the Consul General of the British Consulate at Guangzhou; the Chinese Cultural Centre of Toronto, Canada; and the Artron Group of China, among others. He is represented by Ethan Cohen New York and Canadian Fine Arts in Toronto.
The artist has been selected by some of the world's leading luxury brands for special projects, including Mercedes-Maybach and Volkswagen Phaeton. For 2016, Lan has been awarded a returning second residency at Mana Contemporary and has been asked to lecture at universities throughout the United States.

(Lan Zhenghui with his monumental installation "Ink Monument" at Hong Kong Art Week's Art Central)
Art Central, Hong Kong's contemporary art fair with a distinctly Asian focus welcomes thousands of collectors, VIPs and Hong Kong's social elite. Billed as one of the most anticipated events on the city's cultural calendar during Hong Kong Art Week. This year the fair welcomes over 100 hand-selected galleries from 21 countries, 75% hailing from 23 cities across greater Asia as well as 30 new names never before seen in Hong Kong.  Housed within the city's largest ever, architect-designed temporary structure, the fair will produce a dynamic program that includes interactive installations, cutting-edge new-media, engaging panel discussions, and host some of Hong Kong's hottest eateries.