The Lives of Chang and Eng
0
UNIVERSITY OF MINNESOTA — ASIAN AMERICAN STUDIES
 The Lives of Chang and Eng: Siam's Twins in Nineteenth-Century America
Tuesday, March 3 
Lind Hall 207A
 Please join us for a book presentation and workshop with Joseph Andrew Orser, author of The Lives of Chang and Eng: Siam's Twins in Nineteenth-Century America (University of North Carolina Press 2014)
 The Lives of Chang and Eng: Siam's Twins in Nineteenth-Century America is a cultural biography of the famous conjoined twins and the large families they raised in rural North Carolina. It explores what their fame reveals about the changing racial and cultural landscape of the United States, but also the ways in which evolving discourses of physical difference shaped the experiences of these two brothers, their wives, and their 21 children.
4:00 – 5:15 p.m.
Book presentation on The Lives of Chang and Eng. Free and open to the public. Light refreshments will be served. Copies of the book will be available for purchase and signing.
5:30 p.m. – 6:45 p.m.
Workshop for graduate students and faculty. Professor Orser will talk about the process of researching, writing, and transforming the Ph.D. dissertation into a book.
About Joe Orser
Joe Orser teaches in the Departments of History and English at the University of Wisconsin-Eau Claire. His areas of specialization include Asian American history and the History of the Family. This book, The Lives of Chang and Eng, has its origins in graduate seminars at Ohio State University, where Joe completed his doctorate in U.S. history in 2010. Before returning to graduate school, Joe worked as a journalist for almost 10 years, five in his native Florida and the rest in Bangkok, Thailand.
Professor Orser's presentations are co-sponsored by the University of Minnesota-Twin Cities Department of English, Asian American Studies Program, and Immigration History Research Center. 
UNIVERSITY OF MINNESOTA
ASIAN AMERICAN STUDIES GRADUATE STUDENT 
TRAVEL FELLOWSHIP AWARDS
2014 – 2015
Deadline: 4:00pm March 2, 2015
The University of Minnesota Asian American Studies Program will be awarding a limited number of travel fellowship grants of $400 each for graduate students presenting papers at Asian American Studies-centered conferences (such as the annual meeting of the Association for Asian American Studies and the Critical Ethnic Studies Association) or for research relating to dissertation projects. Preference will be given to Ph.D. students whose papers or projects represent ongoing and sustained research in Asian American Studies, who do not have another source of travel support for this conference or research project, and who have not received an AAS Travel Grant in previous years. Only one award per person per fiscal year. Please be aware that these awards will be processed as scholarship/fellowship funding and may affect any financial aid that you currently have. Successful grantees will be awarded the full $400 amount, which will be applied directly to their STARS account.
To apply for AAS Graduate Student Travel awards, please submit an application to the Prof. Lisa Sun-Hee Park, Asian American Studies Program, 215 Social Sciences Building, University of Minnesota, by 4:00 p.m. March 2, 2015, with the following information:
Name
Student ID number
Departmental Affiliation and year of entry into the program
Contact information, including mailing address, telephone number, and email
a) Name, dates, and location of conference or, b) location and dates of travel for research trip
Title and 250-word abstract of presentation or research project
Brief description of how the conference paper or research trip fits into a larger research plan.
If application is for a conference paper, please include proof of acceptance (such as copy of letter or email), or date acceptance is expected
List of other conferences and research travel awards received last academic year, including any applications still pending. (Duplicate reimbursement requests for the same research trip are not allowed)
List of any previously-received AAS graduate student travel awards and years of award
Anticipated cost of attending the conference or research trip
Signature of faculty advisor or DGS confirming information and supporting conference attendance or research trip travel.
If you have any questions, please contact Lisa Sun-Hee Park, Director of Asian American Studies ([email protected]).
Funds will be processed through the scholarship automation process. Students may want to contact the Office of Student Finance to determine if an adjustment can be made to their Cost of Attendance before accepting the award as to not impact their other financial aid.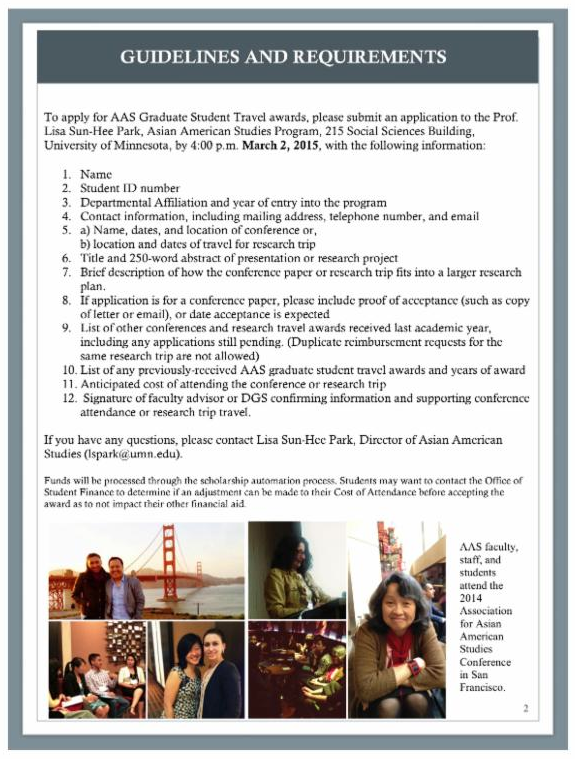 Be a light for the U's Asian American Studies Program. 
With your support, the Asian American studies program will continue to provide ground-breaking research and creative work; ties to local, national, and international communities; and a curriculum that reflects the experiences and needs of our increasingly diverse student body.
Consider making a donation to support our growing Asian American Studies Program. Your gift will make a direct and immediate impact on our ability to support cultural programming and events, build community outreach, establish student scholarships, and develop faculty research.